Kitchen Remodeling in Southlake
Experienced Remodeling Contractor in Westlake, Colleyville, Trophy Club, Keller & Grapevine
A well-designed and updated kitchen not only enhances the functionality and appearance of your home but can also increase the overall value of the property. When a kitchen is looking a bit tired, a complete renovation can create a more modern cooking and dining space. It can also improve the overall flow and organization of the home. By working with our professional designers at Kingbird Remodeling & Design, residents can maximize their kitchens' value.
From plumbing to painting, our kitchen remodeling in Southlake will be tailored to meet your unique preferences.
To discuss your dreams for an updated kitchen, reach out online or give us a call at (817) 587-4988 for free estimates.
Why Invest in Remodeling Cabinets
Cabinet remodeling is a great way to update the look and functionality of a kitchen. It is typically done when the existing cabinets are outdated, damaged, or no longer working functionally. Anyone wanting to change the color or style of the cabinets, add more storage space, or update old hardware should consider remodeling. Just replacing the cabinets can significantly impact the overall look and feel of the entire space. It's also an opportunity to make the kitchen more efficient and better suited to cooking and storage needs.
Experienced & Method driven
Southlake Style Reader's Choice Winner

Home Improvements & Contractor/Remodeler

2022

Southlake Style
Which Kind of Floor Is Right for a Kitchen Renovation?
Although the floor may be located beneath our feet, it definitely does not escape our feet. During a kitchen renovation, it is important to think carefully about which material to use. Some substances are more conducive to coming in contact with dropped food and liquids.
Popular types of kitchen floors would include:
Ceramic tile – These tiles are durable, easy to clean, and available in a wide variety of colors and patterns. Ceramic has high water resistance and is great at withstanding heavy foot traffic.
Hardwood – There's a reason why this classic is still so popular: this timeless choice immediately adds warmth and beauty to a kitchen. It comes in a variety of wood species and can be finished in a variety of stains and finishes.
Natural stone – Slate, granite, or other natural stone flooring adds a luxurious and high-end touch to a kitchen. Stone is durable and simple to clean but is also one of the more expensive options.
Continue Reading
Read Less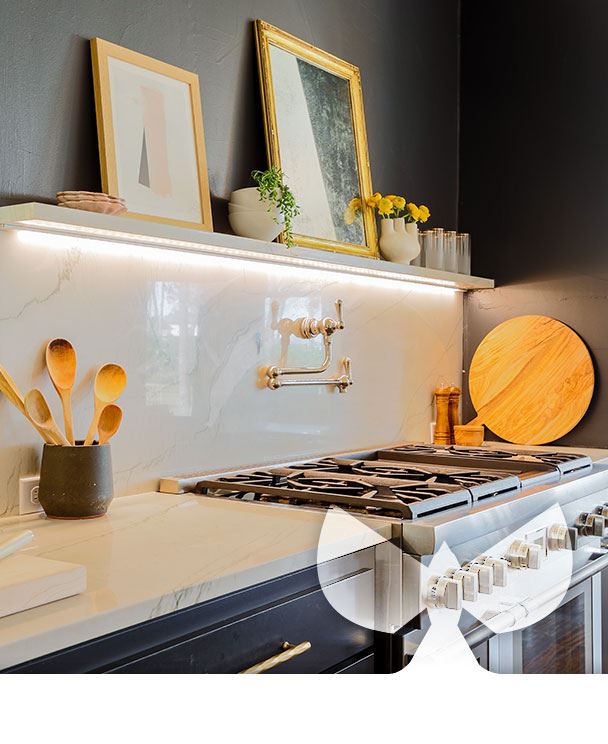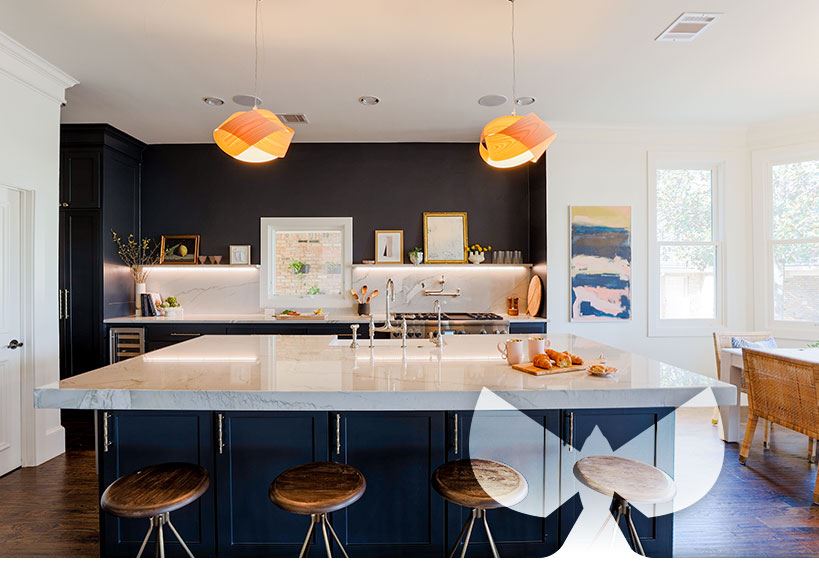 benefits of working with our expert team
Wide Range of Design Options

We truly have something for everyone. Our in-house design team will find something for every taste & aesthetic.

Effective, Process Driven Approach

We follow a tried and true process that helps keep the project on pace and your goals at the forefront.

Customized Experience Every Time

Let us create something uniquely you. With our variety of design options and materials, your remodel will be one-of-a-kind.

Exceptional Communication

Along with our award-winning team, we use CoConstruct, a platform that allows you to follow along with the progress.
How Often Should Kitchens Be Repainted?
The frequency of repainting a kitchen depends on several factors. For example, the color and finish, as well as the amount of use the kitchen gets, greatly influence the paint's lifespan. Extensive levels of sunlight and heat exposure will also wear the surface more quickly. On average, a kitchen may need to be repainted every 5 to 7 years, although some kitchens may need repainting more frequently and others less often. When noticing the paint is chipping, fading, or discolored, it's time to reach out to Kingbird Remodeling & Design for a fresh coat of paint.
For truly high-end kitchen remodeling in Southlake, speak to our experts online or give us a call at (817) 587-4988.
Contact us today
for a consultation.
We live and work in the local communities around Southlake, Westlake, Keller, and beyond. If you're looking for a luxury renovation on your home, fill out the form or give us a call at (817) 587-4988. If you're looking for a new build, check out our parent company, WillowTree Custom Homes.